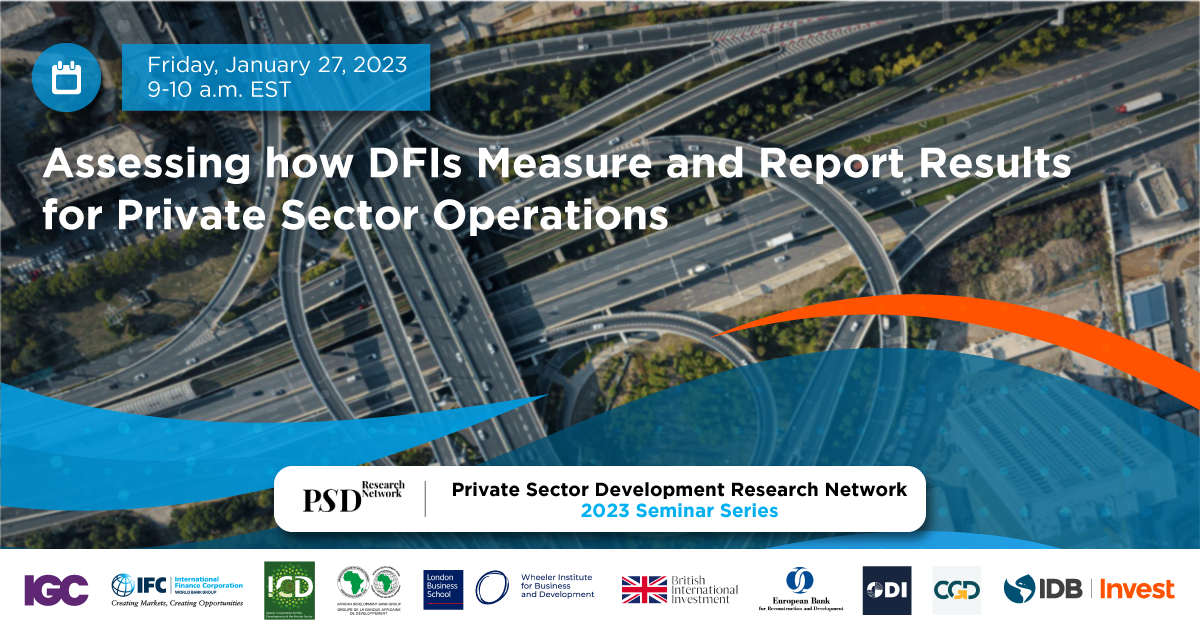 Assessing how DFIs Measure and Report Results for Private Sector Operations
Organized by the Private Sector Development Research Network
Hosted by the African Development Bank (AfDB)
Moderated by Fadel Jaoui, Economist (AfDB)
Friday, 27th January 2023, from 9-10am EST
ABOUT THE SEMINAR 
Development Finance Institutions (DFIs) foster sustainable development through financing, advisory services, and technical assistance. They complement public investments in developing and underserved markets to unlock development opportunities and deliver development results. Whereas DFIs' missions are known among practitioners, their development achievements are often less understood. Consequently, DFIs have developed different results measurement and reporting systems (RMRS) to document the impacts of their interventions. This includes recent efforts to harmonize development impact indicators for results measurement and reporting. However, less is known about methodologies used in assessing development outcomes, or institutional setups for measuring and reporting these outcomes. This hampers knowledge on what works or does not work from a development finance perspective, preventing feedback mechanisms for DFIs to learn from prior interventions, mitigate risks and ultimately improve subsequent interventions. Using a newly developed framework of hard vs soft integration of RMRS, and primary and secondary data from 11 DFIs' RMRS, the study that will be presented examines the setup and effectiveness of different results reporting systems and mechanisms currently in place among DFIs. Findings reveal that although all interviewed DFIs measure anticipated (ex-ante) and ex-post development outcomes, only 27% operate a fully integrated RMRS that permit a 360-degree feedback loop for development effectiveness. Link to full paper here.
ABOUT THE SPEAKER
Toba OMOTILEWA is a Senior Research Economist at the African Development Bank (AfDB) in Abidjan, Cote d'Ivoire where he conducts development research and works on ex-ante estimation of development outcomes of the Bank's non-sovereign operations. Prior to joining the AfDB, he worked for the World Bank in Washington DC as a Consultant Economist on the LSMS Development Data Group, and also for the International Water Management Institute (IWMI) in Colombo, Sri Lanka as a Research Economist.
Link to the full recorded seminar.
Link to the presentation slides here
Search
Search our network database
Subscription
Subscribe to receive news and so on.