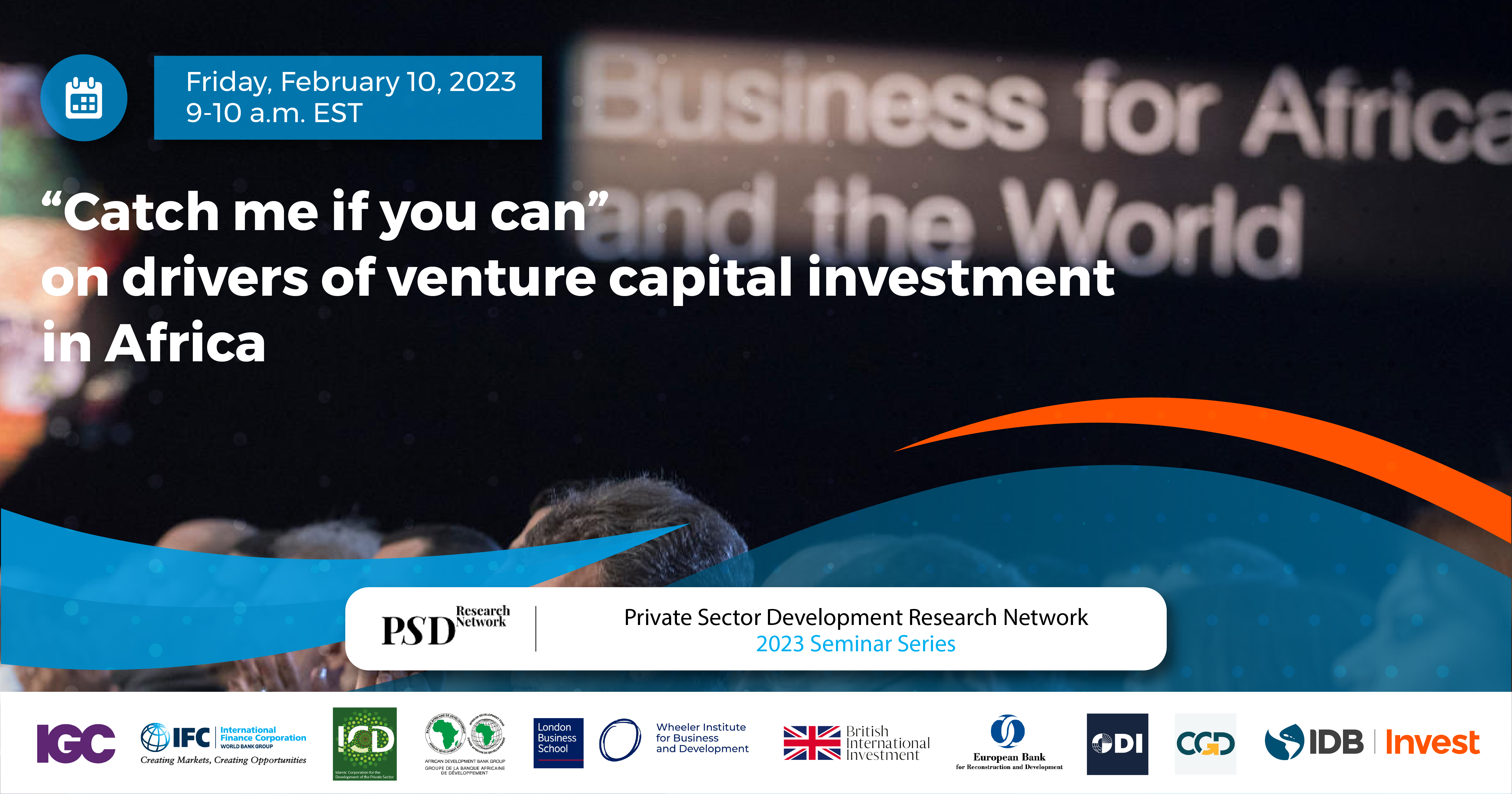 "Catch me if you can" on drivers of venture capital investment in Africa
Organized by the Private Sector Development Research Network
Hosted by the African Development Bank (AfDB)
Moderated by Eugene Bempong Nyantakyi, Economist (AfDB)
Friday, 10th of February 2023 from 9-10am EST
ABOUT THE SEMINAR
The paper that will be presented investigates the determinants of venture capital investments across 25 African countries over the period 2014–2019. In particular, it considers the significance of innovation and digitalization in Africa's venture capital activity. The results show that digital infrastructure, high-technology exports, internet coverage, market size, minority investor protection and government effectiveness are the main drivers of venture capital deals in Africa over the period examined. More generally, these findings highlight that digital infrastructure and connectivity, innovation and institutional frameworks all play an important role in shaping a favorable environment to attract venture capital funding.
ABOUT THE SPEAKER
Fadel Jaoui
Chief Research Economist, African Development Bank Group
Dr. Fadel Jaoui is an economist, impact investing expert and former global capital markets executive, with 15+ years of research and operational experience, and distinctive track record in macro policy, capital markets, strategy, sustainable investing, private sector development, venture finance and innovation. He has a diverse development finance experience having worked with several international financial institutions. He is currently a Chief Research Economist at the African Development Bank (AfDB). Previously, he worked as an economist at EBRD and the IMF with a focus on the MENA region, covering wide ranging development issues including macroeconomic management and policy, private sector development, and SME finance. He also has private sector experience, having previously worked in investment banking at Goldman Sachs in London. He holds an M.Phil. and PhD in Economics from Oxford University, as well as an M.A. from Columbia University and BSc. from the LSE.
Link to watch the recorded seminar. 
Link to the presentation slides: here.
Search
Search our network database
Subscription
Subscribe to receive news and so on.