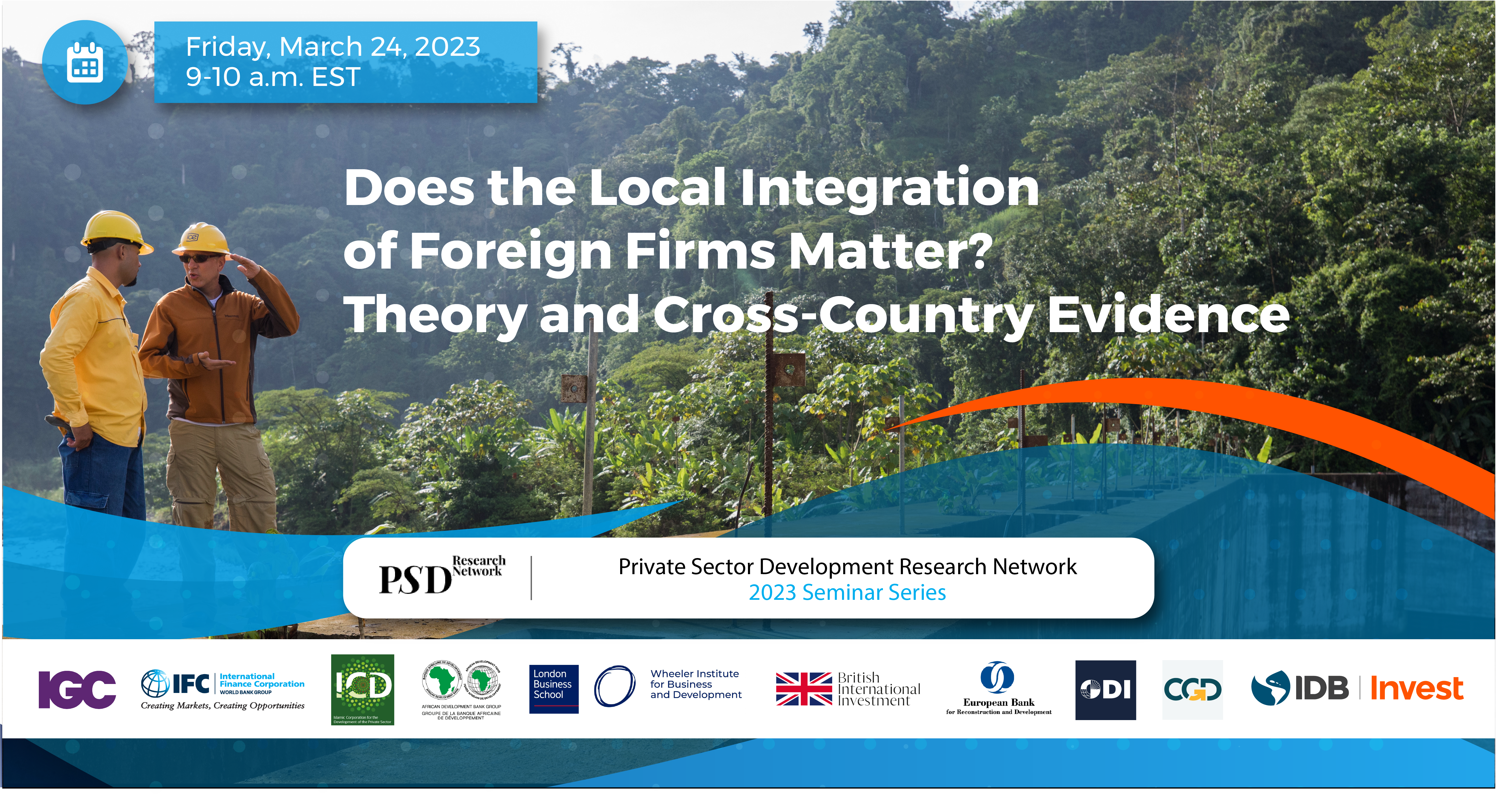 Does the Local Integration of Foreign Firms Matter? Theory and Cross-Country Evidence
Organized by the Private Sector Development Research Network
Hosted by the International Growth Centre (IGC)
Moderated by Christian Lippitsch, Country Economist, IGC.
Friday, 24th of March 2023 from 9-10am EST
ABOUT THE SEMINAR
Countries compete fiercely to attract foreign direct investment (FDI) with the expectation that FDI firms have a positive footprint on the local economy above and beyond the good jobs and TFP (Total Factor Productivity) boosts they bring about directly. Most of this footprint is expected to occur via local supply chains and knowledge spillovers from FDI firms along these chains. In this project, we bring evidence from the rich microdata of four countries at different levels of development (Uganda, Costa Rica, Turkey and Belgium) about the patterns of integration of FDI firms into their local supply chains. We then open the conversation guided by theory about the cases when these integration patterns are welfare-relevant and which integration patterns should be encouraged through policy (if any).
ABOUT THE SPEAKER
Isabela Manelici
Assistant Professor, London School of Economics and Political Science (LSE)
 In the Fall of 2021, Dr. Isabela Manelici joined the Department of Economics at the London School of Economics and Political Science (LSE) as an Assistant Professor. Isabela's current research lies at the intersection of Trade and Development Economics. A citizen of Romania, Isabela has received her BA in Civil Engineering from École Nationale des Ponts et Chaussées (Paris), her MA in Economics and Finance from CEMFI (Madrid), and her Ph.D. in Economics from UC Berkeley in 2020. For the 2020-2021 academic year, Isabela Manelici was an International Economics Section Postdoctoral Research Associate in the Department of Economics at Princeton University. Prior to her graduate studies in Economics, she has worked as a Junior Professional Associate at the World Bank in Washington, D.C. Isabela is also a research affiliate at CEPR and CESifo Research Network; an associate at Center for Economic Performance (CEP), Trade and Urban, and a Senior Associate at Programme on Innovation and Diffusion (POID).
Isabela's Curriculum vitae: link
Search
Search our network database
Subscription
Subscribe to receive news and so on.