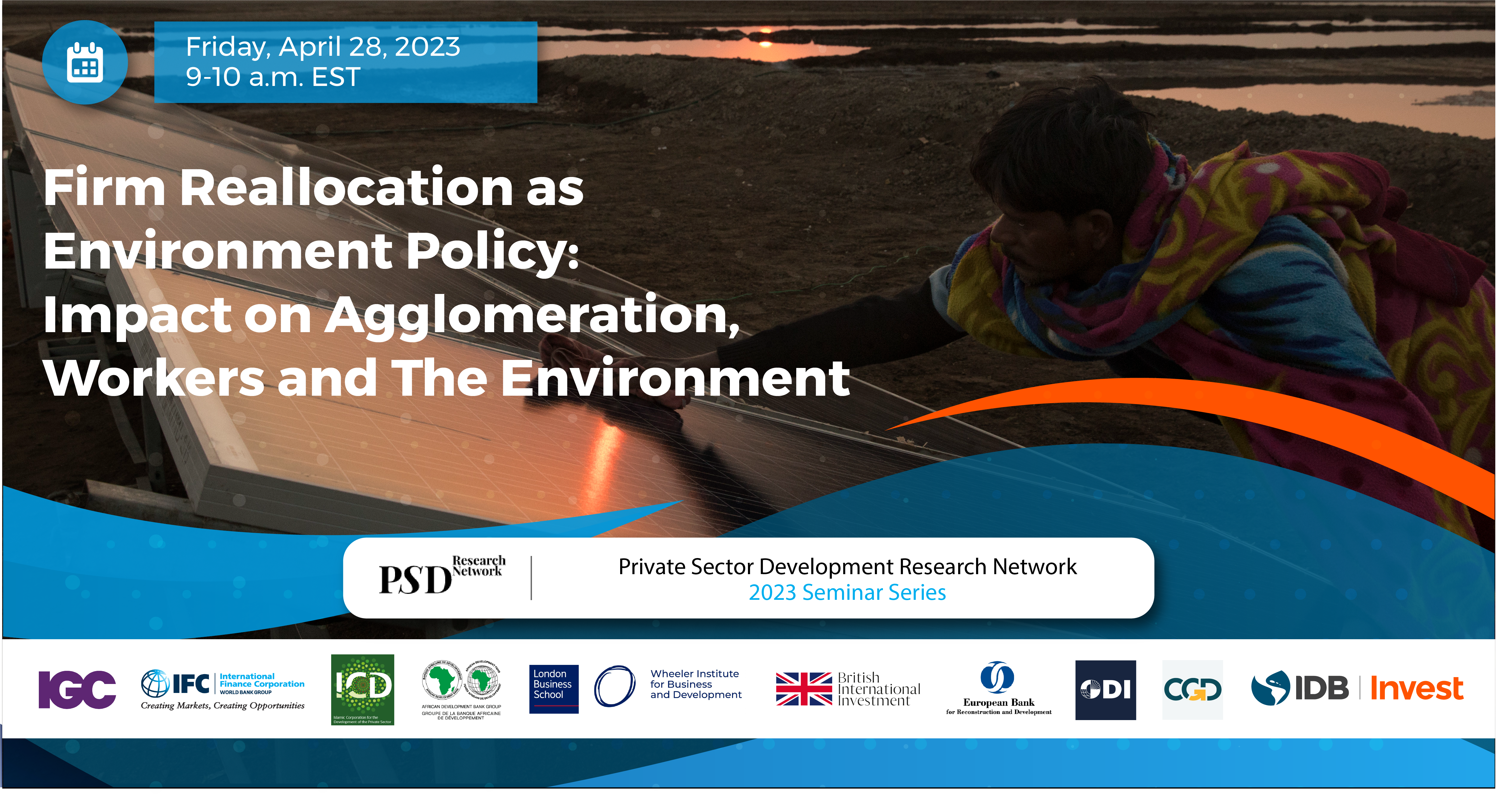 Firm Reallocation as Environment Policy: Impact on Agglomeration, Workers and The Environment
Organized by the Private Sector Development Research Network
Hosted by the International Growth Centre (IGC)
Moderated by Sugandha Srivastav, Environmental Economist, Oxford University.
Friday, 28th of April 2023 from 9-10am EST
ABOUT THE SEMINAR
The trade-offs between promoting economic growth while minimizing externalities such as pollution, are among the key dilemmas facing policymakers. Understanding the economic and distributional consequences of policies that seek to reduce air pollution by impacting firms, is important to inform policies that balance this trade-off. Furthermore, since many of these policies impact firm decisions, they also provide a lens to test theories of firm interactions that contribute to our understanding of firm behaviour. This seminar presents evidence from a project using quasi-experimental methods to evaluate the impacts of industrial relocation policies in several Indian cities which mandated the closure of certain industries (classified as "polluting industries") to certain designated areas. They are evaluated on outcomes such as firm location, pollution agglomeration, and residential expansion.
ABOUT THE SPEAKER
Namrata Kala
Assistant Professor, Applied Economics, MIT Sloan School of Management 
Dr. Namrata Kala is the W. Maurice Young (1961) Career Development Professor of Management and an Assistant Professor in Applied Economics at the MIT Sloan School of Management. She is an economist with research interests in environmental and development economics. Her current research projects include studying how firms and households learn about and adapt to environmental change and regulation, the returns to environmental technologies, and the returns to worker training and incentives. From fall 2015 to 2017, Namrata was a Prize Fellow in Economics, History, and Politics at Harvard University and a Postdoctoral Fellow in the Abdul Latif Jameel Poverty Action Lab at the Massachusetts Institute of Technology. She received her PhD in environmental economics from the School of Forestry and Environmental Studies at Yale. She also holds a BA (Honors) in Economics from Delhi University, and an MA in International and Development Economics from Yale University.
Search
Search our network database
Subscription
Subscribe to receive news and so on.