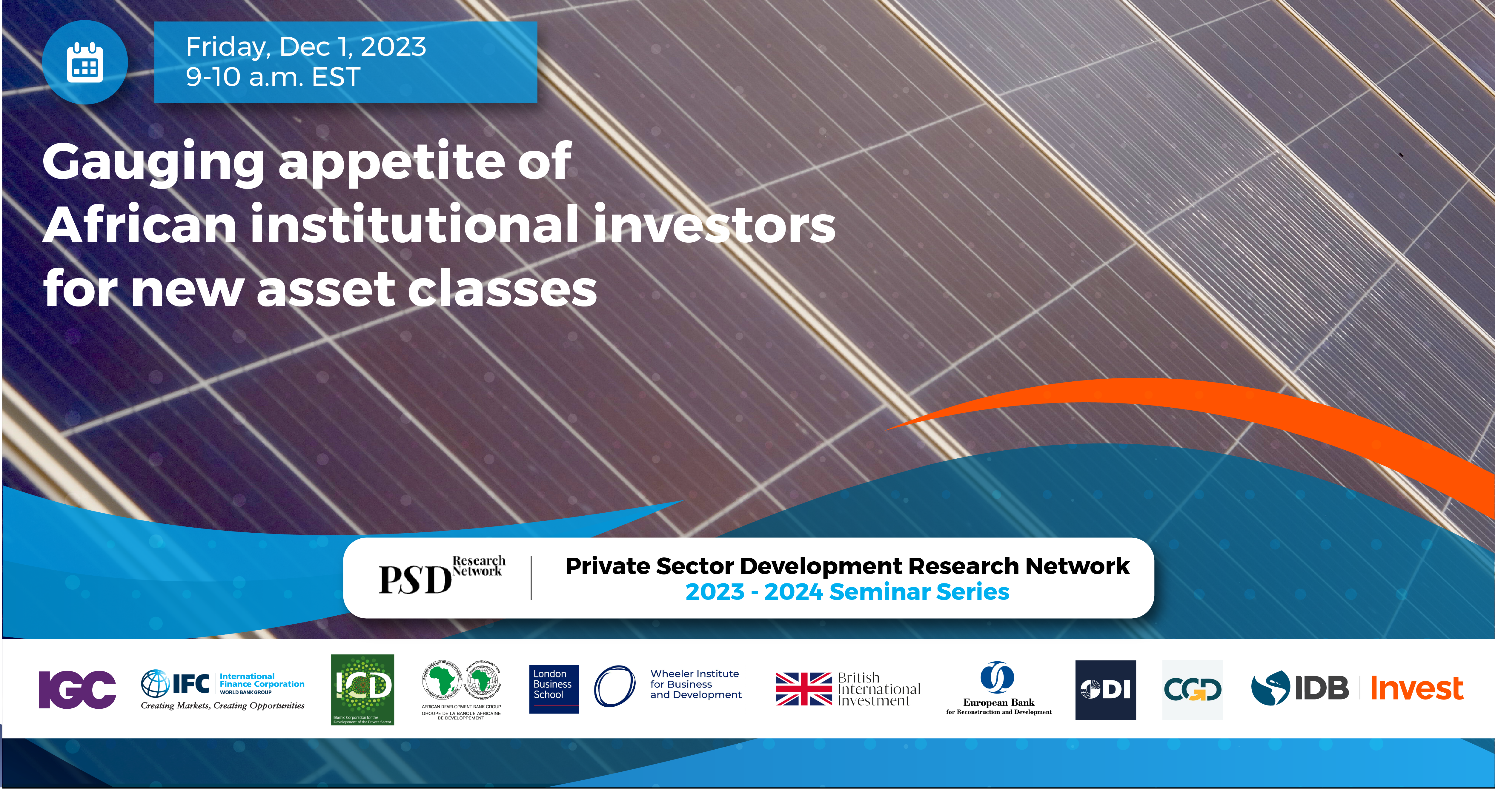 Gauging appetite of African institutional investors for new asset classes
Organized by the Private Sector Development Research Network
  Moderated by Dan Goldblum, CDIFI Manager, IFC
Friday, 1 December 2023, from 9-10am EST
More ways to join below
ABOUT THE SEMINAR
 During this seminar, David and Jacqueline will present the findings of the joint IFC-AfDB-MFW4A study, "Gauging appetite of African institutional investors for new asset classes" drawing on updated asset allocation data. They will discuss practical lessons from the study findings examining how and to what extent institutional investors in several African focus markets have been allocating assets to alternative asset classes over the past several years.
The study's cross-market findings are intended to 1) test the appetite for various existing and proposed investment vehicles/structures targeting local institutional investors, with a view to informing their design; and 2) help national capital market stakeholders and development finance institutions in identifying potential areas for market interventions to help foster development of new asset classes and provide new ways to mobilize private finance for development. They also aim to support national policy makers and regulators in identifying reforms that would further develop local institutional investors as longer-term asset managers, while safeguarding their fiduciary role–and by implication further develop local capital markets.
Link to the complete study is here.
ABOUT THE SPEAKERS
David Ashiagbor
Chief Financial Sector Strategy Officer, African Development Bank Group (AfDB)
David is the Chief Financial Sector Strategy Officer at the AfDB. He leads the design and development of the Bank's Financial Sector Development Strategy, in addition to supporting the Director on policy and strategy issues, and providing inputs into other corporate strategies. David was head of the Making Finance Work for Africa (MFW4A) Partnership Secretariat at the AfDB between 2015 and July 2020. MFW4A supports financial sector development in Africa through research, knowledge management, and advocacy.
He previously managed the Commonwealth's Private Investment Initiative (CPII), which raised US$800 million for investment in frontier markets.  David has also worked for the International Finance Corporation (IFC) in South Africa, Cameroun, and Ivory Coast, the Agence Française de Développement in Ghana, and carried out extensive research on African pension funds.
He is a graduate of the London School of Economics and The Management School, Imperial College, London.
Jacqueline Theresa Irving
Senior Economist, Sector Economics and Development Impact Department, International Finance Corporation (IFC)
Jacqueline is Senior Economist with the International Finance Corporation (IFC)  and the Sector Economics/Development Impact department focal for IFC's capital markets transactions including related to developing pension funds and other local institutional investors. Previously, as Director of the Milken Institute Center for Financial Markets, she led the Capital Markets for Development unit's policy research and advisory work. In this role, she worked directly with Rwanda's Capital Markets Authority and stakeholders to prepare a 10-year Capital Markets Action Plan. As a Senior Economist with the World Bank from 2005-11, Irving led and contributed to data-driven policy research and advisory work on capital markets development and infrastructure finance. This included leading an assessment of the potential for African financial sectors to raise longer-term finance for infrastructure, as part of the NEPAD-driven Africa Infrastructure Country Diagnostic.
She joined the World Bank Group initially on secondment from the International Monetary Fund, where she had led and contributed to advisory work and research on developing African securities markets and local institutional investors. During the 1990s, she managed the Economist Intelligence Unit's country financial markets analysis in 45 countries globally including in Africa. Early in her career, she was an Assistant Manager with the Dreyfus Corporation, a pioneer in the U.S. mutual fund industry.
Jacqueline is a graduate of Columbia University.
Marina Finken
MFW4A Partnership Coordinator, AfDB
Marina Finken is the Partnership Coordinator for Making Finance Work for Africa (MFW4A). She is an experienced Finance Professional who, before joining MFW4A had a successful career within Big 4 firms, providing audit and advisory services to large Banking groups and other financial services entities. Her areas of expertise include banking, sustainable finance, inclusive and digital finance, and capital markets. Marina is a chartered accountant with a master degree from SKEMA Business school and an Executive MBA from INSEAD. She is passionate about using finance to address social and economic challenges in Africa.
MORE WAYS TO JOIN: 
Join from the meeting link
https://worldbankgroup.webex.com/worldbankgroup/j.php?MTID=me58ec79db5faf3c7b4077f73f92d2e06
Join by meeting number
Meeting number (access code): 2317 551 5511
Meeting password: nmCMvf5tF27
Tap to join from a mobile device (attendees only)
+1-650-479-3207,,23175515511## Call-in toll number (US/Canada)
Join by phone
1-650-479-3207 Call-in toll number (US/Canada)
Global call-in numbers
Join from a video system or application
Dial 23175515511@worldbankgroup.webex.com
You can also dial 173.243.2.68 and enter your meeting number.
Need help? Go to https://help.webex.com
Search
Search our network database
Subscription
Subscribe to receive news and so on.