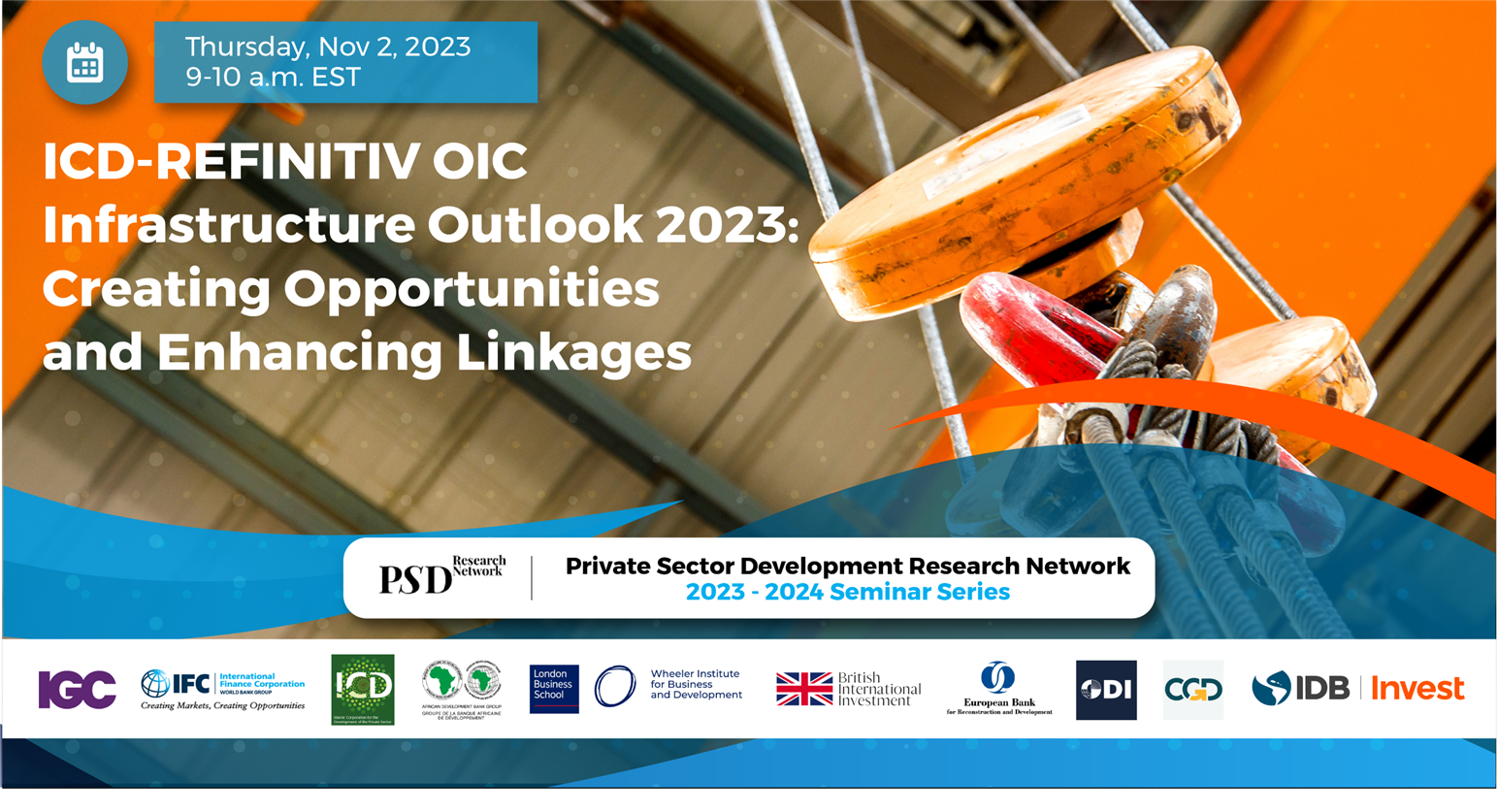 ICD-REFINITIV OIC Infrastructure Outlook 2023: Creating Opportunities and Enhancing Linkages
Organized by the Private Sector Development Research Network
Moderated by Dr. Elvin Afandi, Division Head, Corporate Strategy & Research in ICD
Thursday, 2 November 2023, from 9-10am EST
ABOUT THE SEMINAR
Despite the central role played by infrastructure development in growing a nation's economy, significant funding gaps remain for the 57 countries of the Organization of Islamic Cooperation, with the total they need having been projected at $2.7 trillion over the 25-year period 2016-2040. There are, however, significant opportunities to support economic growth and boost prosperity, increase trade, enhance social welfare, improve energy security and climate resilience, and improve regional integration.
During this seminar, the outcomes of the ICD-REFINITIV OIC Infrastructure Outlook 2023 will be presented and discussed.
Link to the complete report is here.
ABOUT THE SPEAKER
Tayyab Ahmed
Senior Research Analyst, London Stock Exchange Group
Tayyab is a Senior Research Analyst at the London Stock Exchange Group (LSEG). As part of the Islamic Finance research team, he helps produce various thought leadership and foresight reports.
Tayyab has almost a decade of professional experience and was previously an Associate Director of Strategy in Malaysia for Ernst & Young (EY), where he focused on government strategy, team and stakeholder management, and mentoring associates.
Tayyab holds an MPhil from Cambridge, LLM from London School of Economics, and the CISI's Islamic Finance Qualification (IFQ).
Watch full seminar here ; Passcode: vJh!Z4PF
Search
Search our network database
Subscription
Subscribe to receive news and so on.