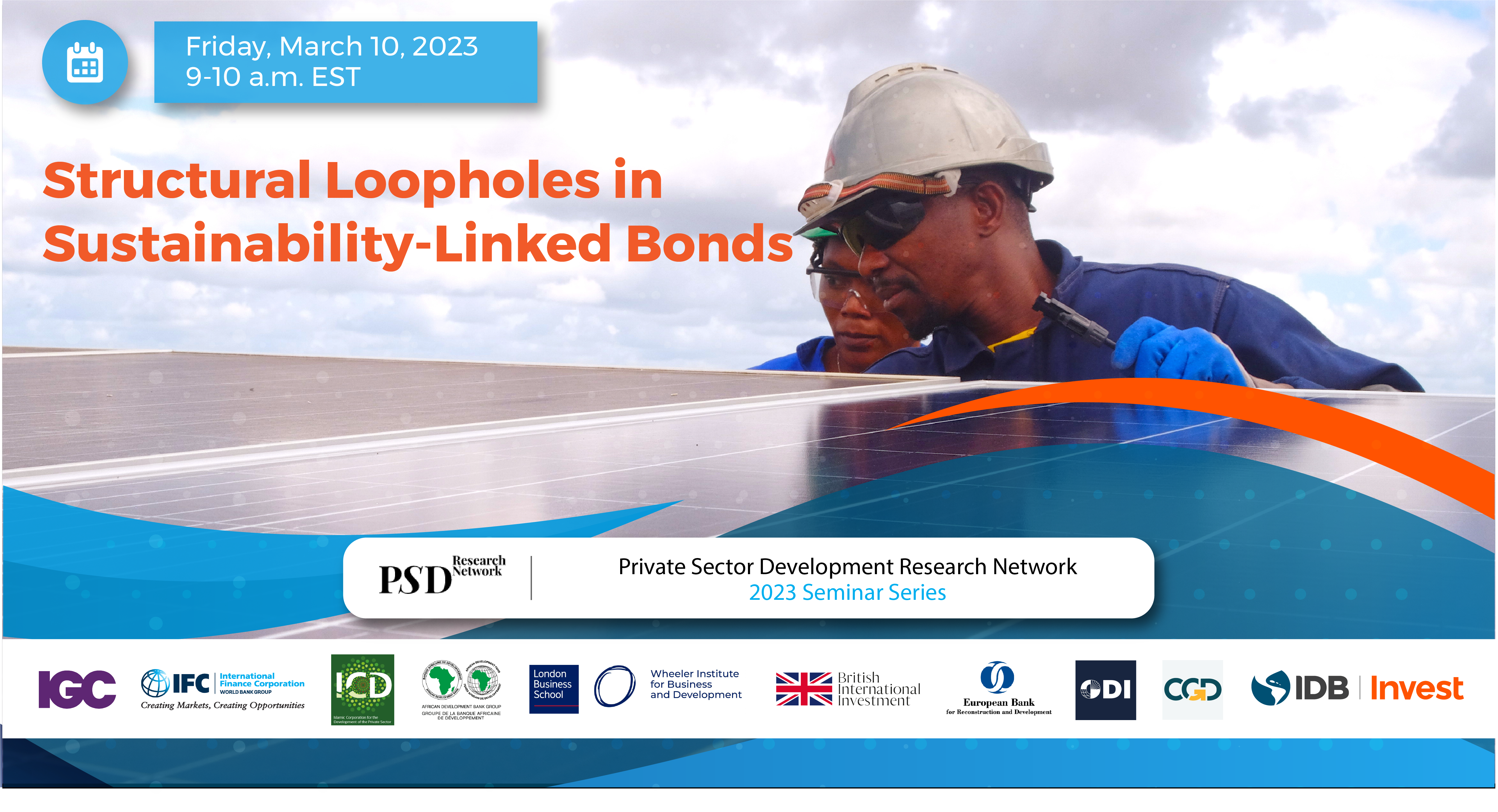 Structural Loopholes in Sustainability-Linked Bonds
Organized by the Private Sector Development Research Network
Hosted by the 
International Finance Corporation (IFC)
Moderated by Alexandros Ragoussis, Senior Economist, Economic Policy Research (IFC)
Friday, 10th of March 2023 from 9-10am EST
ABOUT THE SEMINAR
Sustainability-Linked Bonds—an innovative debt product that incorporates incentivized sustainability targets—are becoming increasingly popular to encourage issuers to improve their sustainability performance. However, existing Sustainability-Linked Bond structures allow issuers to weaken the link between sustainability and financial outcomes, rendering Sustainability-Linked Bonds less effective. The paper that will be presented during this seminar examines two potential structural loopholes on this front: late target dates and call options. The results show that Sustainability-Linked Bonds with coupon step-up penalties, which constitute the majority and benefit most from such features, are more likely to have later target dates and call options embedded. Larger penalties are associated with a greater likelihood of late target dates but not call options, which instead tend to be favored primarily by speculative grade issuers. The paper also provides evidence that issuers with high carbon dioxide emissions are more likely to resort to such structural loopholes. These findings suggest that Sustainability-Linked Bonds, despite incentivized targets, may be prone to greenwashing.
Link to the complete paper here
Link to the corresponding blog here
ABOUT THE SPEAKER
Imtiaz Ul Haq
Economist, Economic Policy Research team at the International Finance Corporate (IFC)
Imtiaz Ul Haq is currently an Economist with the Economic Policy Research team at the International Finance Corporate (IFC), part of the World Bank Group. Previously, he was a Research Fellow at Harvard University and an Assistant Professor of Economics at the Lahore University of Management Sciences (Pakistan). He holds a PhD and MSc in Finance from the University of Manchester, United Kingdom.
Imtiaz has worked extensively on a range of topics in finance with a heavy policy focus, including sustainable finance, financial technology and financial regulations. Details on his work can be found here.
Search
Search our network database
Subscription
Subscribe to receive news and so on.